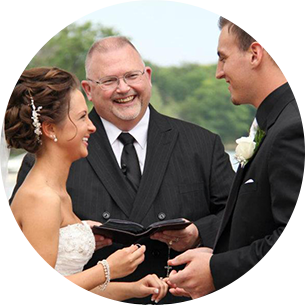 Your ceremony will be unlike any you or your family/friends have ever experienced.  My theory for writing a unique ceremony for each and every wedding, is that no two couples are the same – nor should their ceremony be the same. Repeating the same ceremony as was provided in the last 20 weddings I've performed is never done. And sadly that is the case with 98% of those 'internet officiants' you will interview. Yes, they claim 'personalized' or 'custom/customized' – but truthfully they offer or have only two choices. They change the names and update a couple simple items for you. The reason I prefer to write custom ceremonies or help couples create something highly personalized, is to have the ceremony reflect you both in every way! Words written to help you speak from the heart. To express the love that you share, and have that connection of your love, your relationship, and your commitment shown to all on this most important day. It is the ceremony and the words that you will remember forever!
And ceremony performance – the words on the page are just words, unless they are delivered in a performance to evoke and bring the emotion your wedding ceremony deserves! With my powerful baritone voice, I will capture your guest's attention and stir their emotions with the wonderful words you have chosen! Many do not consider the capabilities of the minister/officiant to perform their ceremony. Anyone delivering something so personal should carry the emotion appropriate for the event. Their voice and their skills are of paramount importance. I have over 40 years of public speaking experience and training – as well as enjoyment and talent of both. I bring an element not available with any other person. Many may not understand how important this is, but I participated in 4-H demonstrations, starting at age 9 and won many public speaking competitions in my 10 years in both 4-H and Toastmasters. I joined junior – and then adult "Toastmasters" groups, and have the many years of experience and training that provided. I have also participated in Dale Carnegie courses in presentations. And my years as an engineer, had me speaking in front of large groups on many occasions. Does anyone else you might consider have this training, talent, or ability?
what type of ceremonies do you perform?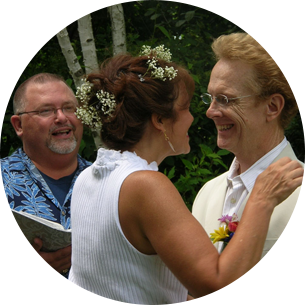 Let me startby saying that anything you desire; it is my honor to help you to create the perfect ceremony and perform it for you! Some couples seeking non-religious services have been cautious in choosing me, as I have a true religious background. But I welcome and love to perform non-religious/secular ceremonies! These are about the love and commitment of your day, and not about a particular belief-set. But I am also Catholic, and I offer a full range of Catholic services, from lightly-themed Catholic service  – to a full Catholic Mass. I am not tied to any Diocese as a Parish Priest, as I work as a Catholic Missionary and am not paid or under the direction of a particular Diocese. Unlike your home Priest, I can marry you away from your Parish sanctuary – at your favorite chapel, stadium, golf course, or wherever you desire. I also have a Lutheran background until 2007. I was raised and educated Lutheran (LCA, then ELCA) and am delighted to provide services from any Christian denomination too. I also help couples with non-denominational ceremonies when multiple faiths come together. And 3-4 times-a-year, I am blessed to be asked to provide Jewish wedding services, and most often Jewish/Catholic combinations. I can bring many Jewish-themed elements into your ceremony too. I will also work in tandem with your Rabbi – or I have Rabbi's to help if yours is not available or willing to help.
And I love to help with themed events. Hawaiian are my favorite, but tell me about what you would love to create and let's start planning your ceremony!
Special ceremonies like a Unity ceremony, with candle/sand/water, are always your choice. And I have more than 30 other options that are like Unity ceremonies, but maybe not ever seen before. Things that are ethnic/cultural, but beautiful and so great to include if you desire, into your wedding. So many couples love to include special elements as part of their ceremony. We can review all these choices at your personal meeting!
And if you desire to have guests perform a reading – a solo, or some other type of element or remembrance – I'm delighted to help you develop that and include it in your ceremony!
With my help, we can create a custom or highly-personalized ceremony that will tug at your heart, fill you with emotion, and make your wedding day unforgettable. The ceremony should both impact and impress your guests, as well as be a perfect reflection of your desires. Their comments following the ceremony will confirm that you made a wonderful impression on them too.
your personal consultation & initial planning meeting*
Your personal consultation and initial planning meeting will give you – the bride and groom – an opportunity to meet me; Rev. Brian Tuttle! It is your meeting to learn about how I can support you, and create the best wedding ceremony imaginable. You also get the chance to see what I look and sound like. I am there to answer your questions and help you plan the ceremony you have always dreamed of.
 During the interview, I want to share your vision – your insight – and your needs, and allow me to bring all that together for you as a couple. I will help you to create the ceremony that you always dreamed of.
Our meeting intends to help you with sound advice, without trying to change your wants, religious beliefs, or convictions. Ceremonies are constructed to your needs – therefore, I do not impose any set structure or format. I want you to express your deepest thoughts and desires. Your true feelings for each other will come out. Let me help you plan your ceremony so that your dreams can come true!
If you need help in finding other wedding pros in different fields, I'm delighted to help provide those who I would trust with my own daughter's weddings. Not just any list, but time and experience tested pros who I have worked with and know how they treat their clients. I do not mass-merchandise my recommendations and only suggest those that I know the quality of their work first-hand.
Meeting locations – We have advanced to using Skype, Zoom, and many online services. Busy couples today have less time to meet. Traveling – even across town, takes time they may not have. And we support couples over the entire State of Michigan. Many times, those meetings may require 2 hours of driving or more. And even more recent, health warnings and pandemic closings of social locations have made it impossible to be at the same table. These video meetings have worked wonderfully for many years with couples who live out of state – and out of the country. So video conferencing has become the primary source and allowed us more time to meet….have quality meetings, and more meetings, as needed.  
*Not all packages include personal meetings – please ask if available for your service choice.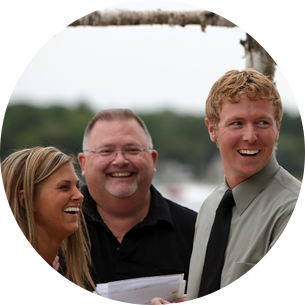 As a highly experienced Priest/Pastor and professional wedding Officiant, I know that far more goes into creating a beautiful and meaningful wedding ceremony than what is often seen or known. Indeed the most effective communication in a wedding ceremony takes place both with words – and without. The subliminal mind processes your actions; your movements. This message – without words, speaks louder than words.  How you stand, repeat your vows, light your Unity Candle, or present your roses, will give subtle messages to your guests.  It is very important then that you understand how to do all of these things with poise and confidence. The old adage "actions speak louder than words" applies to how you carry yourself during your ceremony. You want to show your guests 'subliminally' the same thing you are saying with words.
The reason I feel a rehearsal is so important is that everyone in the wedding party needs to know what is expected of them, and then practice it. Yes, you both and maybe many of your bridal party have been in other wedding ceremonies before. But two important factors – were you given complete and correct instruction? And most important – this wedding – your wedding, is just that. YOURS! And so we should practice all the elements you have so carefully chosen.
When I direct the rehearsal session, you will learn all that is required of you. From this experience will come confidence, and from that confidence will come poise.
From this practice and experience, you and your wedding party will be more relaxed during the ceremony. Being in this positive frame of mind during your ceremony will bring calm – the calm of knowing that nothing is unexpected or a surprise from the experience you gain from your rehearsal. Yes, this process if very important!
Rehearsals generally last about an hour. We have fun – even though this is a serious event. We practice until everyone understands their placement, order, and responsibilities.
To recap, a wedding ceremony performance and how you appear to your guests are as important as what you say. My extensive rehearsal session thoroughly prepares you for this most special of events. And most important relieves the stress from the unknown. It will help make for a more pleasurable trip down the aisle!